Hap's Barbecue on Food Network's show: Burgers, Brew & 'Que on Cooking Channel
---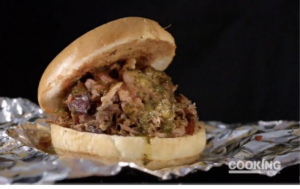 We had the extreme pleasure of being featured on Food Network's show: Burgers, Brew & 'Que airing on Cooking Channel. How, you may ask? And the story goes…
It was late December, in the extreme rush of the holiday catering season.  I sit down at my desk after a busy lunch hour to work on my office duties, and the phone rings.  I entertain the call by listening to what I expect may be another daily sales pitch on a new marketing campaign, I can't believe my ears, a producer on behalf of Food Network/Cooking Channel? I interject by asking how much the described show may cost me; there's a laugh and I'm set straight. Turns out it was just not any call, it was a call with the greatest opportunity and the hugest blessing to have ever been bestowed on this business. An email is sent for my review, I investigate the legitimacy of the proposition; make a couple of calls to friends.  What do I find?  I find that my parent's lifelong dream has just became our reality!!! I find myself sending pictures of our food and establishment to the producers. I find dates being planned for filming just weeks away. This is really happening!
After much anticipation and preparation, the film crew arrives.  Cameras, a boom mic, and monitors are carried in and set up.  There are interviews, demonstrations, and tastings.  It's happening fast and we're making memories that last.  The Hap's family legacy is being shared on a national level and the excitement was through the roof!  What a huge honor that the recipes that Dad and Mom worked so many years to create together are being shared in homes around the country.
Tune in to Season 4 of Burgers, Brew & 'Que episode: Smoked Smorgasbord for a Shark's Appetite
We feature our Smoked Pulled Lamb Sandwich and Smoked Brownie Sundae on the show.